Is your family supportive? Do your friends support you? My husband is very supportive and he's been my first reader/editor of everything I've published. Since he is a retired firefighter/paramedic/chief he is also an expert consultant for me.
I have several good author friends who have helped me tremendously through all the trials and tribulations plaguing new authors.
Then toss in my beta readers and proof-readers, I couldn't do it without their support.
What else do you do to make money, other than write? It is rare today for writers to be full time…  What other jobs have you had in your life? Since I'm retired, these two questions kind of go together. In my younger years I did the usual babysitting and waitressing (from carhop to diner to 4 star restaurants). I discovered an aptitude for accounting and spent time as a bookkeeper as well as a ward clerk in a hospital, general clerk in a doctor's office, grapefruit packer, and long distance operator. Once I discovered computers around age 30, I found my career. Starting in data entry, I worked through programming, operations management, software specialist, consultant, all the way to VP of Client Services.
I formally retired from my IT career at age 50, when my late husband and I sold it all and became underground construction utility inspectors. We lived and traveled in a 36′ motorhome.
For the last twenty years I have always done work on the side, website designing and freelance writing.
What do you do to unwind and relax? I suppose you mean besides reading and writing? I'd have to say riding my motorcycle is the best way I can relax and unwind. I've also recently started Yoga, mostly stretches and some basic moves. I really enjoy it.
How do you write – lap top, pen, paper, in bed, at a desk? I always keep a notebook and pencil handy (I love soft lead in a good mechanical pencil) for notes. I write with my laptop…in my lap or on a table if not at home. I don't do well at a desk, probably due to living in an RV and "making due" with furniture.
What is your favorite food? I'm definitely a comfort food kind of gal with lasagna and meatloaf at the top of the list. Snacks are Twizzlers and anything salty/crunchy in the chip world.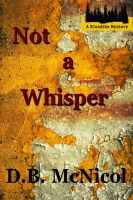 When Cherie Marshall catches her fiancé and best friend in a compromising position, she cancels her upcoming wedding and jumps at the chance to escape to quiet Klondike, Pennsylvania to care for her elderly aunt. She thought her biggest issue would be adapting to life in the middle of a National Forest, so very different from her upbringing in the deserts of Arizona.
But that was before she met State Trooper Fire Marshall Jamison "Jazz" Maddox at the scene of a mysterious fire. As they both become acquainted with the close-knit Klondike residents, things get complicated as Cherie and Jazz find themselves in the middle of a local crime wave where arson, kidnapping, embezzlement and a decades old murder are just the tip of the iceberg.
Buy Now @ Amazon & Smashwords
Genre – Cozy Mystery
Rating – PG
More details about the author
Connect with DB McNicol on Facebook & Twitter
Website http://donnamcnicol.com/