Who designed the cover? CGI artist John Picot did my cover. I was allowed to pick it out myself in a meeting with the artist and my publisher. I loved it because of the brutality of the machine's defeat of the humans in the picture. While this doesn't reflect a specific moment in the book, it does reflect the ongoing struggle humanity is facing, and one of the main opponents is the machines they created.
Who is your publisher? Daverana Enterprises. It is the empire of Janrae Frank, who has been luring writers, artists and editors to her banner for some years now. I'm proud to be in such company.
Will you write others in this same genre? Absolutely. This is just the first in an ongoing series so will be a lot more to come. I love post-apocalypse stuff as well as fantasy, scifi and horror, so having a world where all that exists means I will rarely leave it.
How important do you think villains are in a story? A villain can often define your hero. If the villain is a moron or coward, then the hero is achieving little by defeating him/her. I grew up watching He-Man and the Transformers, and while I loved those shows, it always bugged me how bad the villains were and how easy the good guys had it.
A villain is usually a rival to the main character, so the better the villain, the better the main character is. They can often be defined by the struggle itself – Batman and Joker, Holmes and Moriarty, Kirk and Khan, et al.
So I think they are vital. However, the main character should never be defined by the enemy alone. I prefer a bit more to them than that. Who are they and what they stand for should be self evident, but the struggle with a villain will help define them.
Who is your favourite author and why? Probably David Gemmell. I read Legend when very young and loved it, then bought most of his books or read them from my local library. My favourite of all might be the Knights of Dark Renown, simply because of the way characters are brought out of the legends of the land and into the real fight of the now. Beltzer and Bison are my favourite characters though – obnoxious but never letting their friends down.
Gemmell gave you heroes and villains in a very classical, straight forward way, but also wrote many characters with much deeper shades of grey. His villains could show compassion and his heroes make mistakes, but they wouldn't back down from each other. He also had a great knack for giving you a character to condemn as a coward or thug, then showing how even the worst of us could rise above such things and prove themselves in the end.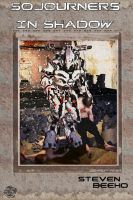 Buy Now @ Amazon & Smashwords
Genre – Post- Apocalypse Sci-Fi
Rating – PG13
More details about the author & the book