When and why did you begin writing? I began writing when I was about 13 or 14. It started off with short stories and progressed onto my first novel when I was fifteen. Why did I begin writing? Because I loved to read. Enid Blyton was my favourite at first and then as I grew older, James Herbert. I wanted to write like them.
Who is your favourite author and why? I have several favourites, all in different genres. I like Nicci French and Alex Chance, and Dean Koontz, Stephen King, Oscar Wilde, Henry James and my newest discovery, Christopher Ransom.
Have you started another book yet? I haven't started it yet but I do have an idea yes and when I find some time, I'll begin brainstorming it. I have written about half a novel about an alien invasion but its ground to a halt and I'm not sure it's working so I've set it aside for the minute and will work on this new idea and hopefully go back to the other one at a later date when I have a clearer idea of where its going.
Do you have any advice for writers? Try and write every day, even if it's just a paragraph and I know this is obvious advice but as I found out, not writing anything for weeks on end meant that I grew as rusty as an old watering can and could barely write a letter or an email at one point. It's like anything, to keep the creative muse happy, you have to keep feeding it every day. 
Do you have any specific last thoughts you want to say to your readers? Don't try and be like your favourite author, create a new brand and a new voice and research the market all the time to find those gaps that need plugging with your great new novel!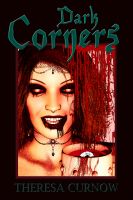 Buy Now @ Amazon & Smashwords
Genre – Supernatural
Rating – PG13
More details about the author & the book
Connect with Theresa Ann Curnow on Facebook & Twitter