Have you included a lot of your life experiences, even friends, in the plot? Absolutely not for the first part! The work is entirely fiction. As for my friends and colleagues, a lot of them appear in the book. All the characters first names and surnames are combinations of people I have worked with, played sport with or just had a beer with while watching live bands.
Where do you see yourself in five years? At almost sixty-eight I don't look too far ahead!
Do you have any advice for writers? If I was you I'd pack it in NOW! Please? Leave a few potential customers for me!
Tell us a bit about your family? I've been married to Lynne since October 1971. We have 3 married children in their early to mid-thirties. Between them they have produced four grandchildren so far! I have one brother Bob who is married to Gaye and they live in the West Midlands, England.
What makes you happiest? Listening to loud rock music and drinking red wine. These two things don't have to be at the same time, in fact quite often, I'll have Jack Daniel's & coke instead, but the music must still be hot & heavy!
Have you always enjoyed writing? My mother started my love of words and books from the age of about four. Two of my aunts were school teachers and by gas light and candle light on occasion, we'd spend hours battling with our cousins over word games they conjured up for us to stretch our vocabulary. There were very few TVs about in those days! It was a natural progression to read voraciously as a teenager, and then start to write for myself. In those days it was poetry that occupied my pen, then life got in the way and I only started writing again six years ago.
What writing are you most proud of? http://www.tedtayler.co.uk/the-long-hard-road/time-for-reflection
This piece was the hardest thing I ever had to write.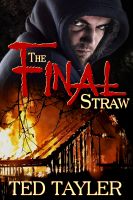 Buy Now @ Amazon & Amazon UK & Smashwords
Genre – Crime / Thriller
Rating – 18+
Connect with Ted Tayler on Twitter
Website http://www.tedtayler.co.uk/