How has your upbringing influenced your writing? My parents are amazing and always encouraged me to write. They read everything I release, and I'm incredibly lucky to have them in my life.
Do you recall how your interest in writing originated? No, not really. My first novel was this terrible 13-page… uh… masterpiece I wrote in kindergarten. Since then, I'd like to think my craft has improved. I also think my love of reading has fueled me to explore fiction as an author.
What inspires you to write and why? Our world and the people in it. We live in such a dynamic, beautiful, and flawed world. I use Pinterest to keep track of all of the pictures, ideas, and articles that inspire me. If you'd like, you can check out my ideas for creatures, ideas for characters, and general inspirational images.
What genre are you most comfortable writing? I prefer anything related to fantasy or the paranormal. I just feel at home day dreaming about things we don't understand. To me, it writing fantasy feels like making the impossible possible.
What inspired you to write your first book? Lichgates and its full series, the Grimoire Saga, has been a work in progress since 2006.
What do you consider the most challenging about writing a novel, or about writing in general? Making time to write. The biggest failure of a writer is when he or she "doesn't have time" to write. There will never be time. It will never be convenient. If you want this—if you want to be a writer—you have to make time. That's true of any goal. If it's your passion, you'll make it happen.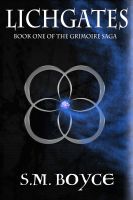 Buy Now @ Amazon & Smashwords
Genre – Fantasy
Rating – PG13
More details about the author