What contributes to making a writer successful? Persistence. The willingness to learn grammar rules so as to know how to break them smartly. And always to use a dictionary and thesaurus, whether print ones or online.
Do you have any advice for writers? I think of the lessons my English Professor taught me: pay attention to diction, to weeding out clichés and jargon, to your point of view, to the reader, to your attitude and your characters' attitudes, to persona, to details, and to structure.
How did you come up with the title? The two main characters' names came to me first, and I felt using them in the title would create two meanings that would be interesting.
Who is your publisher? I self-published Time and Space through CreateSpace, Smashwords, and KDP.
Why did you choose to write this particular book? I don't know. Like all my novel ideas, it just popped into my head. Yet the theme is one I've thought about for a long time, years.
What was the hardest part about writing this book? Doing the background reading on theoretical physics (most of which I had learnt in school but had forgotten) and trying to remember what I'd learned so that I could use it properly in the novel, except for where I deliberately broke the rules.
Did you learn anything from writing this book and what was it? I enjoyed myself hugely in writing this novel, the first time I ever had. I learnt that writing a story did not always have to be hard and intuitive, but really fun too.
Is there a message in your novel that you want readers to grasp? Just because you may consider yourself ordinary or just because you may feel stuck in a job, doesn't mean you have no influence over the world. You can make a difference.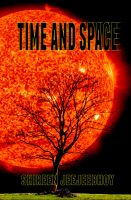 Buy Now @ Amazon & Smashwords & Kobo
Genre – Science Fiction / Time Travel
Rating – PG13
More details about the author & the book
Connect with Shireen Jeejeebhoy on Facebook & Twitter
Website http://jeejeebhoy.ca/