Did writing this book teach you anything and what was it? I wrote this for my reluctant reader son so I knew I needed to make it as fast-paced as possible. The reviews has been great but one throughline in them has been a desire of readers to know the characters bettter, leading me to believe that I may have moved too fast. Book 2 dives more deeply into the characters.
Do you intend to make writing a career? That makes it sound like work! I love being an entrepreneur too much to give up my "day job" but I will continue to carve out time to write until I can't type or hold a pen any longer.
Have you developed a specific writing style? I have a slightly different voice depending on the genre. I have a supernatural thriller coming out the summer called Night Chill. It's a Stephen King-like novel so it requires a different feel than
What is your greatest strength as a writer? Keeping a reader hooked into the story once they start reading has always been a strength.
Have you ever had writer's block? If so, what do you do about it? I usually have more than one project going at a time so I just drop whatever I'm blocked on and work on something else. Eventually, the thing I left calls me back. One novel lost its way 80,000 words in and it's waiting in a desk drawer. It's been waiting for five years. Eventually I'll figure that thing out.
Can you share a little of your current work with us? I am working on Book 3 and doing minor tweaks to Book 2 of the Jack Templar series for the April release. I"m also working on a screenplay with a writing partner and a non-fiction book called Reaching Your Reluctant Reader.
Who designed the cover? My brother Eric, who is an uber-creative Broadway actor, designed the cover. Book 2 has artwork by the amazing Nicole Cardiff with my brother doing the design work.
Why did you choose to write this particular book? My 11 year old son turned out to be a reluctant reader and I wrote Jack Templar in an attempt to get him excited about books. It worked and he's now an avid reader.
What was the hardest part about writing this book? Keeping the tone appropriate for the target market. My tastes are pretty dark so I have to dial it back sometimes.
How do you promote this book? Blog tours, tweet Q&As, Goodreads and visiting local school and bookshops have all been a lot of fun as I've met cool people along the way.
Will you write others in this same genre? Yes, The Templar Chronicles is imagined as a 7-part series.
Is there a message in your novel that you want readers to grasp? Each book has it's own "message". Book 1 deals with our responsibility to stand up to evil even at great risk to ourselves.
How much of the book is realistic? While the monsters are fantasy (or are they?), the situations the middle grade characters face are taken right from the experiences of my own kids.
How important do you think villains are in a story? Villains are almost as important (maybe more so?) than the protagonist. It's important than that are real and not cartoony. Someone once said good vs. evil is boring. Good vs. good is real drama. The villains need to have something about them that makes what they are doing (their badness) reasonable. Ren Lucre borders on cartoony in Book 1 with hints at a deeper story that gets elaborated on through the rest of the series.
Who is your favorite author and why? Tolkien was the master and he changed how everyone approached fantasy. Hundreds of authors have followed in his steps and we're all just trying to find our way back to Middle Earth.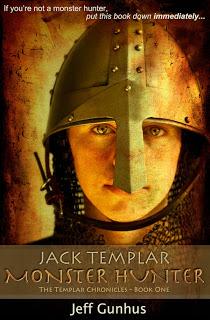 Buy Now @ Amazon
Genre – Middle Grade / YA Fantasy
Rating – PG
More details about the author & the book
Connect with Jeff Gunhus on Facebook & Twitter
Website http://www.jacktemplar.com/